If this was from some movie scene, it would be hilarious to read but no, the former Chief Minister who is the brother of the crook Nawaz Sharif sentenced to 10 years in jail for corruption actually complained to the government about "jail like" conditions in jail!.
The hilarious letter read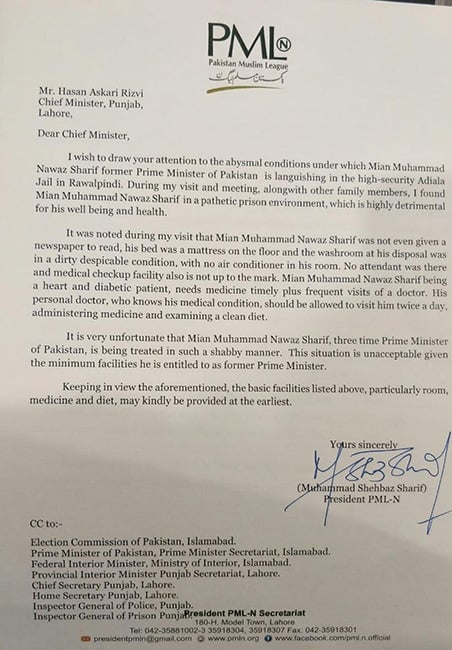 What the ruling elites and new Godfather of Pakistani Mafia doesn't understand is jail is not a luxurious vacation place or 5 star hotel.
Shahbaz wrote: "It was noted during my visit that Mian Muhammad Nawaz Sharif was not even given a newspaper to read, his mattress was on the floor and the washroom at his disposal was in a dirty despicable condition, with no air conditioner in his room. No attendant was there and medical checkup facility also is not up o the mark. Mian Muhammad Nawaz Sharif being a heart and diabetic patient needs medicine timely plus frequent visits of a doctor. His personal doctor, who knows his medical condition, should be allowed to0 visit him twice a day, administering medicine and examining a clean diet."
90% of Pakistani population doesn't have access to air conditioner or can't afford it due to expensive electricity bills ( the average salary of Pakistan is way below the bill of using A/C in Pakistan), most of the poor can't afford newspaper!. In a country where a fan running 24/7 is considered a luxury due to the consistent power shortages, people dying from heat strokes every summer due to lack of fans, the crooks of Pakistani Mafia want to vacation in jail.
I ask from Mr Godfather Sharif – what about the other jail inmates whose thievery and corruption doesn't reach your level, what about their medical conditions? what about sanitation for them? They seem to live fine in these conditions
Sadly, Godfather of Pakistan Nawaz Sharif would not be caged for long as every corrupt crook in Pakistan is out to save him and he will be released or broken out of prison. The Mafia Republic of Pakistan is known for its love for harboring criminals and the biggest criminal of them all Nawaz Sharif can't be caged for long.